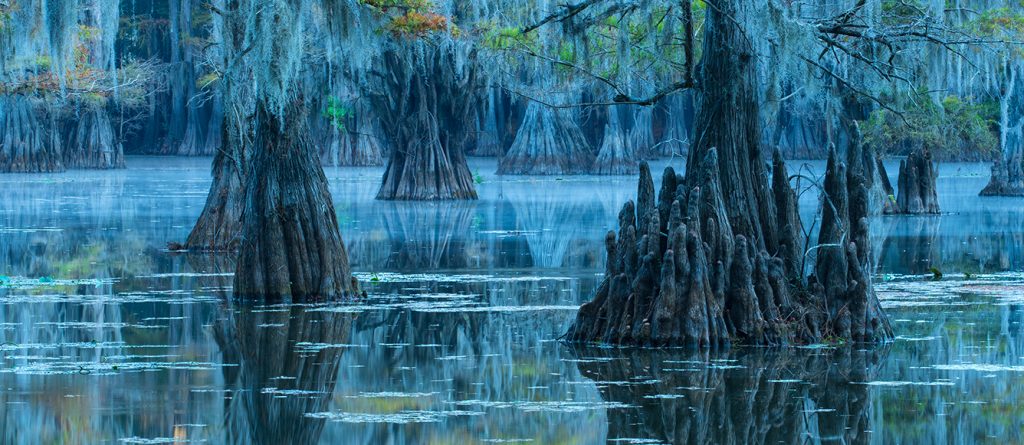 November 10 – 16, 2022
Caddo Lake and the Bayous of Louisiana
There are few wild places in North America more magical than the hidden bayous of Louisiana and the last remaining stands of old growth cypress trees. Professional photographers David Cobb and Christian Heeb have been visiting the Cypress Swamps in these areas for years.
On this photo tour, during the fleeting autumn days, we'll explore some hidden gems in Louisiana and east Texas. From fog on the water to an abundance of bird life, you'll find perfect photo opportunities from land, air boat, pontoon boat, and sturdy sea canoes and/or kayaks. We may even see a few alligators, but the amphibians and snakes are mostly hibernating during the chillier temperatures. Our goal is to guide you to the best location during the best possible time so you can capture great images.
When we're on the water we have local nature guides to lead us. This trip is rated as relatively easy, but you need the ability to enter and exit a canoe on your own and walk over uneven terrain. You also need an understanding of the operation and function of your camera.
Look at our photo gallery and let yourself be inspired by images of previous trips. Welcome to the bayou.
[wp-svg-icons icon="tags" wrap="h2″]
$4,450 per person sharing room
$5,550 single room
[wp-svg-icons icon="users" wrap="h3″]max 7 persons. Full
Alternative Tour Date:
October 29 – November 5, 2022 this tour date has open spots. Caddo Lake
[wp-svg-icons icon="books" wrap="h3″] beginner to advanced
[wp-svg-icons icon="truck" wrap="h3″] Transportation from and to Hotel in Lafayette, Louisiana
Included:
all accommodation in middle class Motels
6 nights in double room sharing, unless single room is booked
3 organized kayak trips
sunset tour with airboat
2 wildlife viewing tours with pontoon boat
transportation in SUV
all entry fees as mentioned in itinerary
guided by David Cobb & Christian Heeb
[wp-svg-icons icon="bullhorn" wrap="h3″]
All participants need to provide proof of Covid-19 vaccination to attend our Mystic Cypress Swamps Photo Tour. By registering to this tour, you sign a waver agreeing to our Covid-19 rule.
Not Included:
flight to Lafayette, LA (LFT) and back home
meals
tips
insurance
Itinerary
Thursday, November 10, 2022
Individual arrival in Lafayette, Louisiana. (LFT) Take a cab ride to our hotel.
You can join us for a sunset photo session along a Cypress studded lake if you arrive at the hotel before 4pm. If the weather is still warm enough we may see Alligators and turtles sunning on logs.
Friday, November 11, 2022
A sunrise session along the lake is followed by some nature photography in a Tupelo Bog.
In the afternoon we head to a beautiful Cypress tree studded lake. We spend the late afternoon in the canoes exploring this natural treasure. Our local guide will point out the various bird species like Pileated Woodpecker, Osprey, Great White Heron, Green Heron, Anhinga and more.
Saturday, November 12, 2022
We start early and take the canoes deep into a little known old growth Tupelo and Bald Cypress swamp. We enjoy the sunrise on the water and explore the little waterways.
In the afternoon we take an airboat into the famed Atchafalaya basin where we shoot more thick water- logged forests and a sunset with Cypress trees.
Sunday, November 13, 2022
After another sunrise canoe outing we pack our bags and head north to Caddo lake. A vast lake on the border of Texas and Louisiana. This evening we will spend photographing the swamp from Land with tripods.
Monday, November 14, 2022
For the sunrise we'll have a local guide drive us by pontoon boat out into the Cypress swamp. Hopefully, we will get an early morning mist and some fall colors out in the vast wilderness.
In the late afternoon we will do another sunset photo trip with the pontoon boat.
Tuesday, November 15, 2022
We do sunrise from land with many opportunities for nice photographs.
Midday we drive back to Lafayette and do another photo session on the Atchafalaya Basin.
Wednesday, November 16, 2022
After a final sunrise photo session in the Cypress swamps. End of tour and individual departure. If you want to participate in the sunrise session, don't plan your flight before noon.
We reserve the right to change the itinerary for this Mystic Cypress Swamps Photo Tour, due to weather and other unforeseen circumstances.