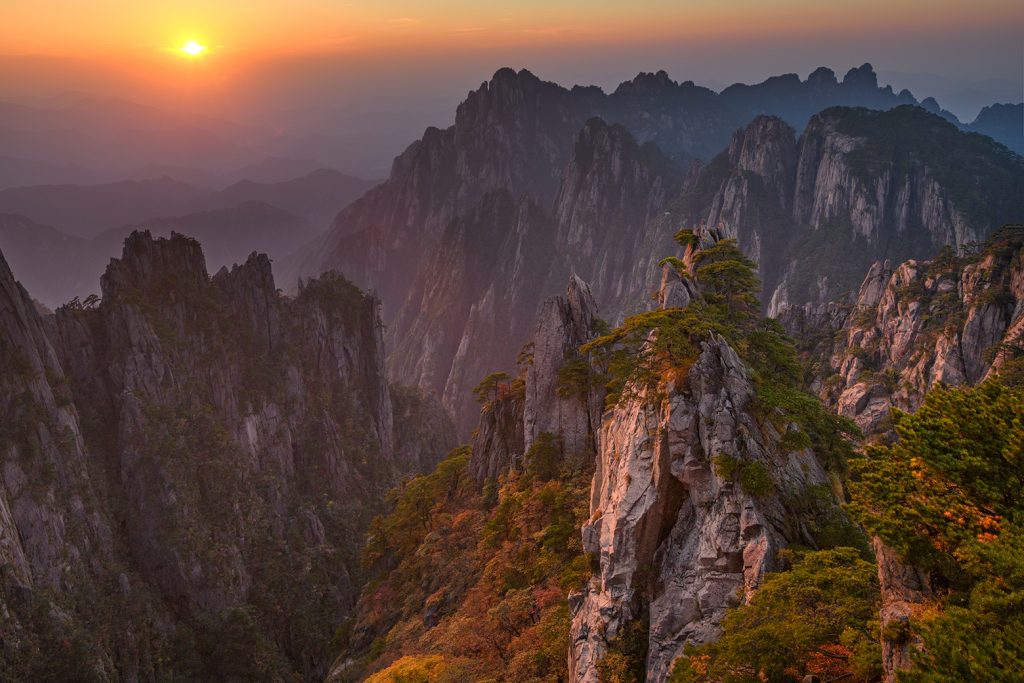 Photographing China was never my first priority. Once, a long time ago, when I was looking for places to put on my photo bucket list, I saw an image of some fog shrouded mountains, studded with gnarly Bonsai-like trees. Those early black and white photos and some of the classic Chinese ink drawings of the same mountains made me want to go to China and photograph it.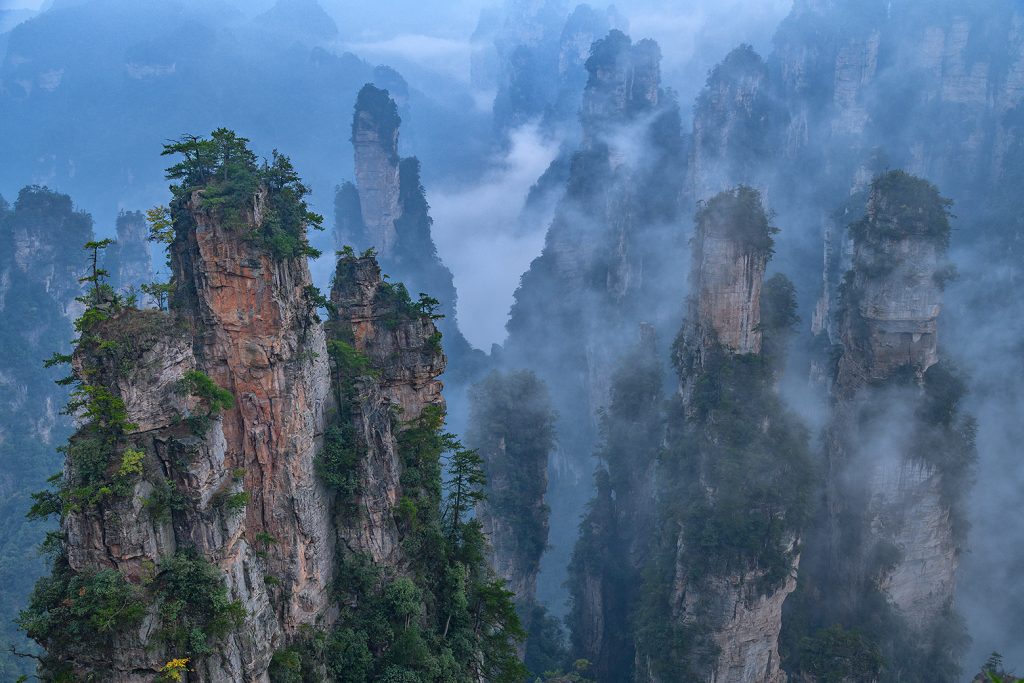 Of course, in the last decade, China has been on everyone's mind and as a country it has got easier and easier to travel to and visit. We all saw the photos of the Cormorant Fisherman, the tourist prop that got photographed so often till it made you want to wring the bird's neck and drown the old fisherman, just to make sure there will be no more photos of them in the future. But, that was just me, a lifelong cynic, who hated clichés while still taking photos of well-known places.
So we went to China. I guess it was Haishu's fault. Haishu, is a Chinese /American client of mine who promised to show me China. She wore me down in her relentless quiet Chinese way till I gave in and went together with my friend, the photographer David Cobb, my wife, and a few people of my entourage. Well not really my entourage but just some photographer friends whose faces lit up when I mentioned China and coerced me into letting them come along.
The first thing that struck me when we got to Shanghai was how modern China felt: the trains, the highways, the subway stations, the shops and streets were all more resonant of the affluence of a European city than of a city in a developing nation. It felt almost so familiar as to the point of being boring. I missed India's exoticism and hectic street photography.
We enjoyed photographing the water town of Nanxun, the Buddha's of Dazu and we certainly enjoyed the noodle soup which we devoured all across China.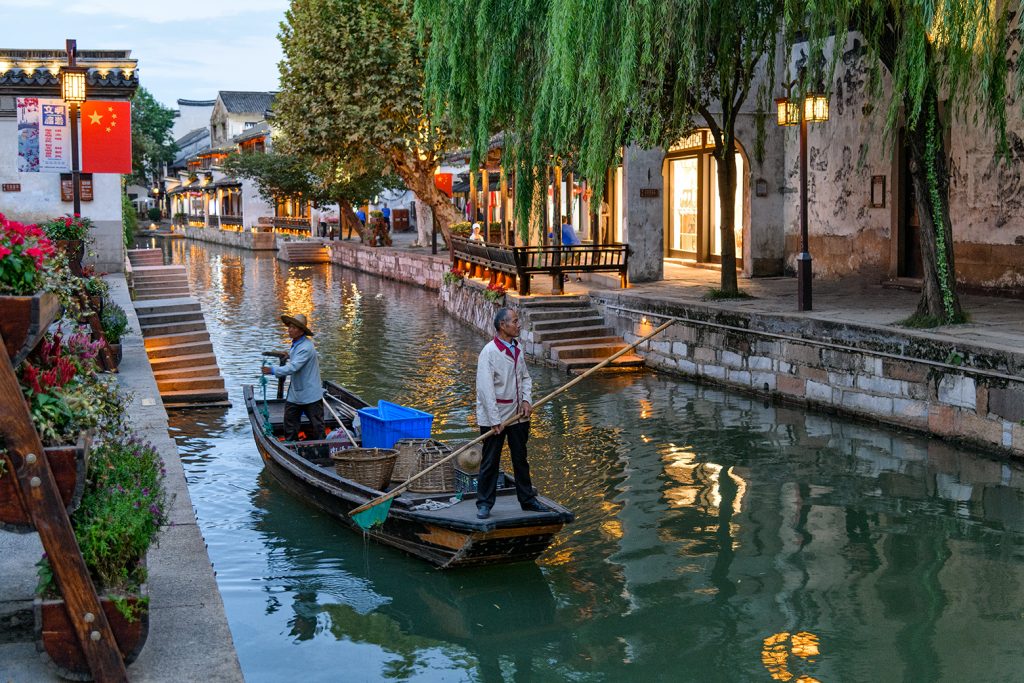 It was easy to work in China. The police state had us covered, photographed and totally controlled so there was no need for them to annoy us with brute police force or tell us this or that was off limits. Nothing was, it was all easy and comfortable in an Orwellian 1984 kind of way.
Haishu, our lovely guide and China expert, was essential of course. Being Chinese, Haishu, like the rest of her 1.4 billion fellow Chinese, likes to eat. It's not just that the Chinese like food, it is that food is the essence of life for them. As she pointed out, when you visit people in China, the first thing they ask you is not "did you have a good trip" but "have you eaten". Have you eaten, means welcome. If you bring an exotic food item they will not ask "Is it edible?", instead they ask " How do you cook it?".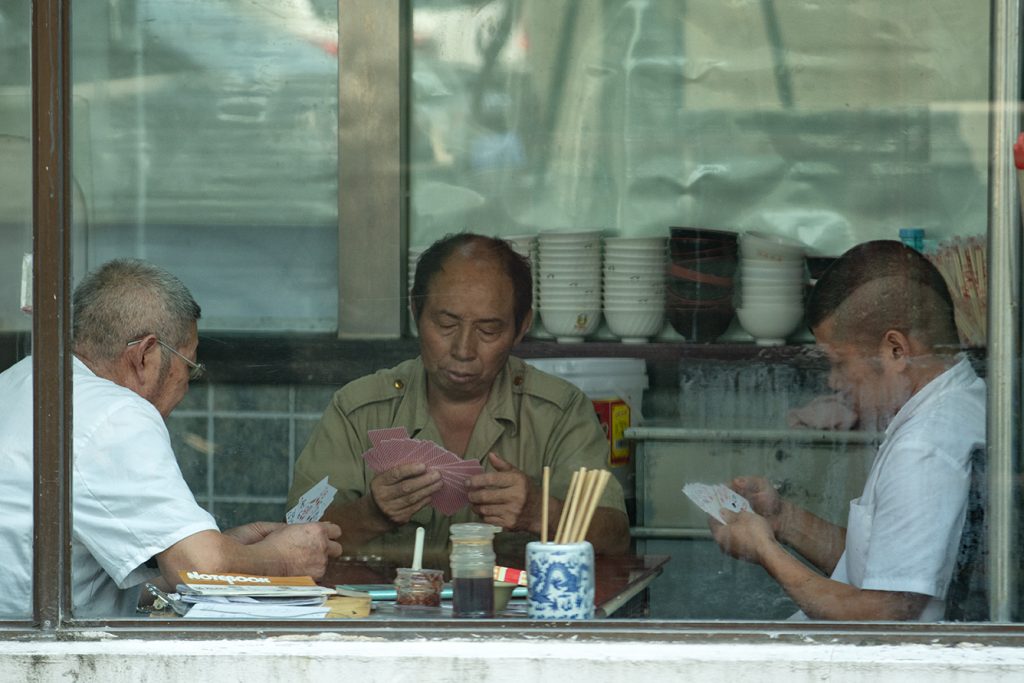 So Haishu, our guide, did order our food at the restaurants where we ate. This is how it's done in China: one person orders for everyone and all the food is shared on a large round table. I remember vividly my friend Ingo smiling as she filmed Haishu in Chengdu, while she was going over the menu with the waiter. It took 15 minutes. Well, it took 15 minutes for every meal! "Would we like the local fish that was hand plugged by blind tribesman from the north and hand smothered by Mongolian virgins?" Or, since she knew Robert, my Swiss banker friend's taste for pork "would he like the pork sweet and sour, or mashed with ground pig feet in a brown sauce?"
It was hilarious to watch as long as you were not starving, which seldom happens in China these days. If you are really hungry there is almost certainly a KFC nearby, so not to worry.
I was thrilled when we made it to Mount Huangshan in the Yellow Mountains. This was the dream photo destination I had longed for. We took the gondola up the mountain and climbed the long steep stairs cut out of sheer rock, that led to our Hotel. The scenery was fantastic and the light sublime. It is a very popular destination in China and the mountains were filled with thousands of Chinese people in large tour groups. David re-named the Yellow Mountains "the Yeller Mountains" since the shouting tour leaders were so loud. Incredible noise echoed back and forth from granite face to granite face. The tour guides had megaphones with which to communicate with everyone in their respective group. Unfortunately every guide has a megaphone. One guy walked up behind me without me noticing and started yelling. I jumped a metre high and for a moment contemplated murder but then the thought of a Chinese gulag and the possibility of having to eat Chinese food for the rest of my life made me think twice.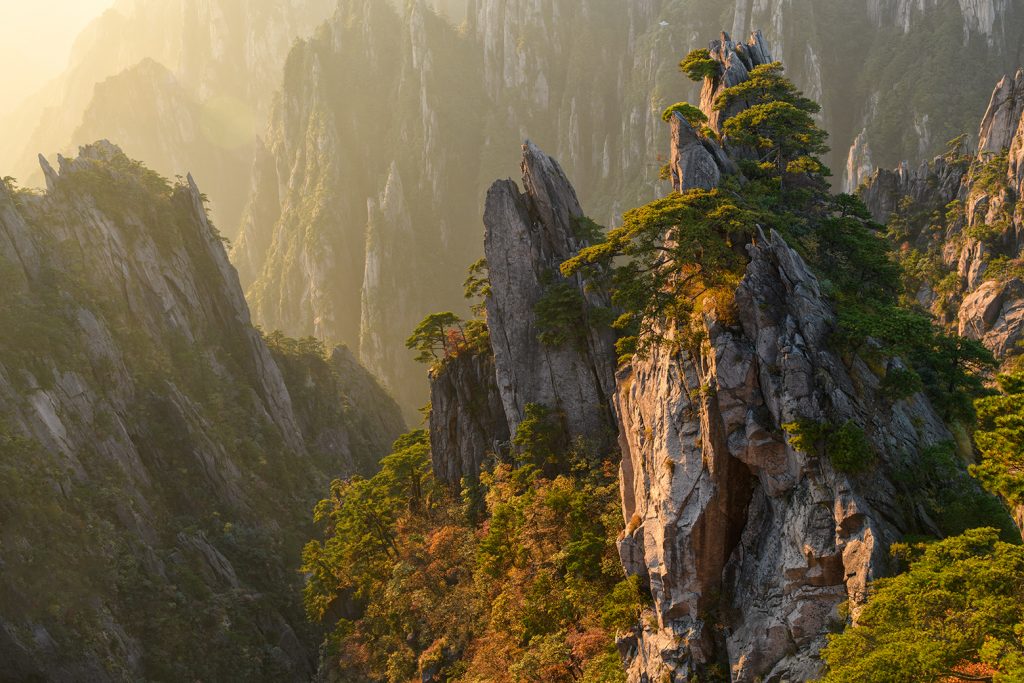 There are endless stairs in the Yellow Mountains, winding trails up and down steep cliffs which had to be walked to reach the best photo spots. We would shoulder our bags and tripods and pass all the Chinese tourists who desperately tried to descend or ascend the stairs. The tourists were all city people who struggled with walking. We would pass them while they were scrambling to make it to the next little plateau for a reprise. Haishu told us later that she heard them say "Oh look these big foreigners must be athletes or mountain climbers". And, "Look at their big bags, they must be training".
I have to say that the Chinese people were very sweet and accommodating. Nobody ever insulted us or was unfriendly. Some were very shy, others brought out their cameras with big lenses and shamelessly took photos of us which I found only fair. As a photographer I have done the same the world over.
Our journey went on to the fantastic Wuling mountains which served as a backdrop for the kitsch movie epic, "Avatar". Wuling's sandstone pillars are even more dramatic than the Yellow Mountains. We went to Mount Siguniang in Chinese Tibet and enjoyed landscapes reminiscent of the Engadine Valley of Switzerland.
After a month of eating our way through China, we called it quits. Haishu was exhausted. Ordering food for a group this long is hard work. I think she was ready for break. So part of us, Haishu included, went on to Laos and Southeast Asia. Of course the first day in Luang Prabang in Laos, Haishu suggested we go and eat Chinese…
About the photographer: Christian Heeb is a Swiss/American photographer based in Bend, Oregon. A lover of big open spaces, Christian is best known for his images of Native American people and the landscapes in which they live. He has published over 200 coffee table books of his photography, countless calendars and numerous magazine articles. When not photographing on commission he leads photography tours and workshops worldwide. www.ccophoto.com
© Christian Heeb, October 2020